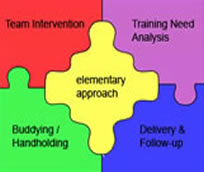 Mapping capabilities and harnessing strengths is our key focus.
We understand and acknowledge that effective learning happens by catering to the elementary behavioral needs and then supplementing them with the requisite hard skill inputs. The approach we follow:
Pre-diagnostic study,

Training intervention, and

A post monitoring process to reinforce learning's.
---